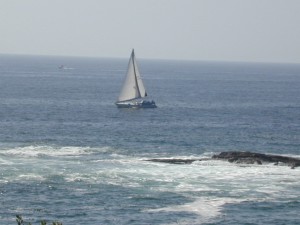 Dana Point is a beautiful coastal California city with impressive residential options. It's in the perfect southern Orange County location, midway between San Diego and Los Angeles. This is the kind of environment people visit for vacation! If you buy Dana Point real estate, you can spend all your time on the sand, or in the trees' dappled shadows that move inside the salty breeze.
Dana Point real estate is imbued with a clean, quaint, and old seaside village feel. Three of the area's 5-star resorts are nearby; the St. Regis, The Ritz Carlton, and the Montage Resort. See our page on Monarch Beach real estate for more information on custom home communities in this incredible beach front community.
Having lived on the Street of the Golden Lantern for five years, I feel especially close to Dana Point. Dana Point was literally my backyard, and I am sure that you will enjoy it as much as I did. In recent years, Dana point real estate has shot up and is quickly approaching its sister city of Laguna Beach. There are millions of dollars in upgrades and renovations planned for the harbor and the thought is that Dana Point's local economy and real estate options will remain one of a kind.
Search Dana Point Homes For Sale
The City of Dana Point
A festive seaside community of 36,019 people, Dana Point is famous for surf shops, dining, and a beautiful marina filled with boats and terrific ocean views. Sailing is a favorite pastime in Dana Point, and the town is also one of the main departure points for day trips to Catalina. With all of these features, Dana Point real estate has a tenacious hold on the Orange County market.
Dana Point Links of Interest
Dana Point Schools Links