Newport Beach Real Estate Offers More than Just Beach Fun
When most people think Newport Beach, they think sandy beaches and surfing. While there certainly is all that, there's a whole lot more going on that makes Newport Beach real estate so desirable.
The beaches themselves are located on Balboa Peninsula, centered between Newport Pier and Balboa Pier. In addition to all the typical beach activities, there are a lot of great places to eat and drink near the beach. Looking for a popular cantina to quench your thirst? Try Sharkeez, near Newport Pier. Craving seafood? Try 21 Oceanfront, also near Newport Pier.
Further south, by Balboa Pier is Balboa Village, a fun place with a quaint ocean-town feel. There are restaurants, an arcade and merry-go-round for kids, and the classic tavern for grown ups: The Balboa Saloon. There's also a ferry to take people to Balboa Island, another picturesque place to visit for shopping and dining.
Further inland from the beaches, but still on the Peninsula, are several other noteworthy restaurants. Pescadou Bistro offers authentic French dining and Parisian cafe style atmosphere. Aubergine, another restaurant that offers French fare, is known to well-satiate patrons with a five-course continental meal. For American fare, the Newport Beach Brewing Company serves up their own crafted microbrews and great food, and The Cannery is a great steakhouse and seafood restaurant. On the bay-side of the peninsula is Woody's Wharf, a great place to grab a drink on the patio looking over the bay. Woody's even has docks for drive-up boat service.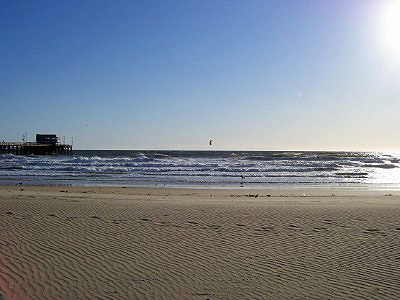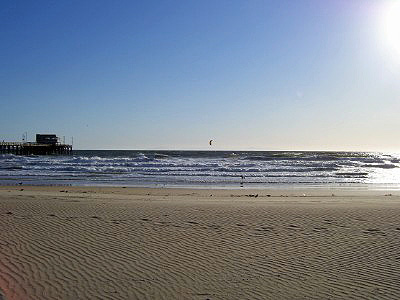 Near the bay there always seems to be something going on. In April, Newport hosts the Newport Beach Film Festival. On the 4th of July is the Old Glory Boat Parade. The Newport Beach Harbor Patrol's classic red fire boat leads the parade that includes patriotically decorated yachts and boats. In December is another parade: the famous Christmas boat parade. For five days, brilliantly decorated yachts, boats, kayaks and canoes go on a 14-mile tour around the harbor. The New York Times ranked the parade as one of the top ten holiday happenings in the country.
In addition to these annual events, numerous companies offer boat rentals, bay tours, and Catalina cruises year around. If you want to go whale watching catch a tour between January and March.
Inland of the bay is Fashion Island, a great place for upscale dining and shopping. Two of the notable restaurants in Fashion Island are Roy's, a Hawaiian restaurant, and Fleming's Prime Steakhouse, touted as Orange County's best steakhouse. Further inland, closer to the Orange County airport is Kitayama, a popular sushi and Japanese restaurant.
The moral of the story is you don't have to be a beach-bum to have fun in Newport Beach. Whatever your tastes, Newport Beach real estate puts you close to the finest dining and cultured activities.